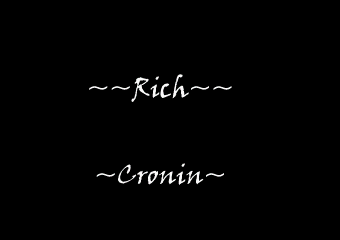 Nickname:
"Rich Nice"

Full Name:
Richard Burton Cronin

Age:
25

Birth Date:
8/30/74

Astrological Sign:
Virgo

Height:
6'3"

Weight:
185lbs

Write with:
Right hand

Tattoos:
Irish Leprechaun on my leg

Piercing(s):
none

Pets:
none

Innie or Outtie:
Innie

Brothers/ Sisters:
Mike - 22 and Cassandra - 18

Language Spoken:
English and Profanity

Favorites and First

Song:
"If it isn't love"- New Edition

Food:
Pizza

Cartoon:
Smurfs

Animal:
Dogs

Drinks:
Mt.Dew

Christmas present:
none

Video Game:
Pitfall

Color:
Green

Car:
Jetta

Cologne:
Abercrombie

Unleaded City:
Boston

Movie:
Goodwill Hunting

First Album/CD:
Men At Work

Concert:
Bell Biv Devoe

Kiss:
some girl in "Woodsy's" basement

Who is the most influential person in your life and why?
My father he is everything I want to be.

Person you most want to meet and why?
Al Paccino, he's such a cool actor

Hobbies:
Movies and whatever I'm into at the time

Who is your Hero and why?
My father (Obvious reasons)

You are stuck in a dessert island. What three things would you bring and why?
Food, water and a house

What is your heritage?
Irish, English and Swedish

To you, what is the most important thing in a relationship? Honesty

Musical instrument played:
Guitar and Kazoo

Describe your wildest fantasy:
none

Describe your perfect Christmas gift:
none

What magazines do you read?
GQ & Rolling Stone

Describe the perfect date:
Being with the perfect girl

What is the weirdest rumor you have heard about yourself?
I was not the MAN! (Just Kidding)

Tooth Brush Color:
Green

Tooth Paste Brand:
Mentadent

Boxers or Briefs:
"Tighty Whities"

Item you couldn't live without:
My toothbrush

Shampoo:
Panteen

Blondes, Brunettes, Redheads, or other:
all females

Gold, silver, platinum plastic or other:
Silver, it's dope I wear lots of it!

Who or what is your biggest enemy?
Usually myself

What about yourself do you like the most?
I am genuinely a good person

What is the best country that you have seen so far?
U.S.A.

What is your shoe size?
12

Were you popular at school?
A little, but I was a clown

Who(of the people in your band) do you think is the best dancer ( not including yourself)?
Devin he's a "Super Freak"

In one word describe yourself:
Tall

Do you believe in aliens?
Yes, our Road Manager is one!

What's the first thing that comes to mind when I say "Mc Donalds" ?
Ronald McDonald

Do you have a license to kill?
No


Q & A from lfo.com

Liz Teter - Elverson PA USA

Do you believe in God?

Yes, I'm Roman Catholic.


Caitlin Krasovic - San Diego California USA

What would you want to do if you weren't in LFO?

Produce and write other people's music.



Alison Kennedy - Brunswick Maine USA

What is the toughest part of your career?

Traveling.


Melissa Winkler - Newton New Jersey USA

I have now done 2 chats, both times questions answered.
Brad says you are a big flirt is that true?

I'm not a flirt I'm just a friendly person.


Melissa Zara - Toronto Ontario Canada

Rich, who do you take after more, your mother or father?

I think I take after a little of both but more so my father.


Sarena Sawicki - Levittown NY USA

Do you still keep in touch with Danny Wood of the New Kids fame?

Yes, Actually I saw him the other day.


Stephanie Koehnen - Chaska MN USA

Who or what is the most important thing in your life?

I would have to say my Family.


Christine Yandow - Farmington CT USA

Rich, are there any special rituals that you have when you write your songs?

No not really it just happens.


Destiny Sherwood - Cottonwood Arizona USA
What is the best advice anyone has ever given you, and what was it?

Was to never give up on my dreams and it was my friend from school Shane Pineo.


Brittany Mack - Shiocton Wisconsin USA

What is your favorite song on the album?

I really like all of them but I would have to say Girl on TV or West Side Story.


Summer Cole - St.petersburg Fl USA

The song "Girl On T.V.", was that written about a girl in real life or is it just a song?

It's just a song, I wrote it using a storyboard type idea and just went with it.


Lindsay Hendrix - Monroe City indiana USA

What does lfo stand for?

It has many different meanings over the years, but we just like to use the letters and the way it sounds and looks.


Trish Fontanilla - E. Hanover New Jersey USA

If you could have a singer/group/band featured on one of the tracks on LFO's new album, who would it be and why?
What would the track be?(artist can be living or dead, preferably living)?

That?? tough one cause there are so many people I would love to do songs with but a few names that come to mind would be Q-tip from Tribe called Quest. Any of the guys from New Edition.


Jennifer Cook - Mequon WI USA

LFO has often been refered to as just another "boy band". What do you think makes you different than all the other boy bands?

For one I think we have a very different and unique sound not to mention that we write and produce a lot of our own music.


Hollie Butler - Corona California USA

Why do you say that your road manager is an alien?

Its not so much that he's an alien it's just that he is so funny and so absolutely crazy.


Chris Kirkpatrick - Orlando USA

What do you think of when you are compared to other "boybands" such as nsync?

I think that is a complement cause BSB and Nsync are really great groups but I think our sound is very different and we write and produce a lot of our own music.


Brandi Shaw - Boring ORL USA

I've loved LFO since the first time I heard them.. and I just have one question.. What ever happened to brizz? One minute he was there and the next.. Devin was in his place! I'm SOOO confused!

Brizz left cause he wanted to do a solo career and a few major labels are currently looking at him.


Natalie Mc - Toronto ON CANADA

I haven't bought the album yet, so I have yet to see the liner notes, who did the producing on this album? I've read somewhere a long time ago that Danny Wood did some on the last album. Is this true?

Yes Danny produced one of are first songs but that was it. This album their are a lot of great producers such as Steve Kipner, Cut Father & Joe, Full Force, and I produced a few myself.


Lyndsey P - Hyde Park NY USA

My favorite song on the album is "West Side Story", whats yours?

That and Girl on Tv are my favorites..